About Elite Comfort Solutions
Maybe you haven't heard of Elite Comfort Solutions, but you're probably familiar with our foam technology. That's because Elite Comfort Solutions, or ECS, is a premier leader in foam technology for the bedding, furniture, automotive, medical, and packaging industries. There's a great chance you've sat on a couch, rested on a pillow, or laid on a bed that uses our unique foam products. ECS is here to help you take foam technology into the future.
Elite Comfort Solutions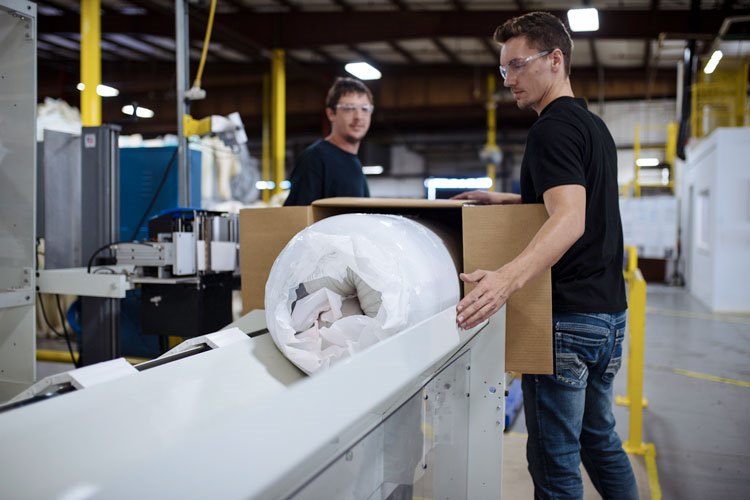 At Elite Comfort Solutions, we recognize the need for diversity in the bedding market. The bedding market is consistently buzzing with new advancements, and it's important to understand how next-generation technologies will help define the innovations of the future. With online purchases replacing retail store sales, as well as the invention of the "packaged foam mattress," the digital world has significantly impacted the bedding industry. The advent of these new products has changed technology, manufacturing, and how bedding is sold. Sophisticated new design software, automated manufacturing equipment, and data analytics-driven research and development have helped advance the bedding industry to greater levels.
Experience
Elite Comfort Solutions brings many top professionals in high-performance foam technologies together, resulting in our capability to produce today's most advanced foam products. ECS works with you to bring your vision to reality. Our focus is to create and produce your unique designs, all while providing you with superior performance characteristics not typically found in other foam products. We are your complete resource, alliance, and strategic partner for specialty foam and fabrication solutions. As a leading innovator, producer, and distributor of polyurethane foam products, ECS integrates technology, experience, and manufacturing excellence into every product.
ECS will help you develop and commercially produce your proprietary products. Our technology and solutions are applicable to a broad range of markets, including specialty bedding, furniture, packaging, and recreational market segments. With production facilities in key locations throughout the USA, we are strategically positioned for global sourcing, production, and distribution. ECS is the ideal partner for product designers looking to bring a vision to reality.
Quality
Manufacturing for Today, Innovation for Tomorrow
Listening to our customers' objectives and offering problem-solving solutions are what differentiates Elite Comfort Solutions from other core foam manufacturers. ECS is focused on continuous advancement, and providing you with your vision, your design, and your next big success!
There is no question about it – when it comes to foam technology, we are the experts in polyurethane foam design and manufacturing. Our technology and solutions are applicable to a broad range of markets, including the bedding, furniture, automotive, medical, specialty, packaging, and recreational market segments. We are focused on developing and commercializing proprietary products that service our customers' needs. These products address the increasingly complex balance between environmental responsibility and the need for highly effective manufacturing techniques.
Made In America Quality
Elite Comfort Solutions is a true American-made product. With more than a dozen facilities strategically positioned across America, we are capable of providing one-stop-shop services that will help you to save valuable time (speed to market), cost in transporting materials, and ultimately, money. We want to help you deliver on time and on budget.
At ECS, we are constantly improving our production facilities, manufacturing technology, and our people. Our employees are what make ECS a special company. We provide a high level of personnel training to ensure that everyone in the production facility is safe.
Our quality objectives are to furnish high-quality, innovative products on time and at the lowest possible cost. ECS pledges to:
Consistently meet or exceed our customers' expectations for product quality and performance.
Provide timely delivery of products and services to meet our customers' requirements.
Continually improve our products, processes, and systems.
Ensure our personnel are properly trained to better serve our customers.
Quality Policy
It is the policy of the company to provide goods that meet our customer's requirements and will merit and earn customer satisfaction by supplying a quality service and material in accordance with customer expectations. To achieve this objective, it is the policy of the company to establish and maintain an effective Quality Management System.
Certifications
You don't get to call yourself a world-class supplier without a keen emphasis on quality. Every Elite Comfort Solution facility and employee represent the importance of producing and delivering a high-quality product.
You can be confident that ECS products are designed, manufactured, and tested under a quality-assurance system that is world class. ECS is committed to continuous quality improvement. ECS products undergo a series of comprehensive final tests to ensure that it will dependably perform to the required specifications.
ECS also follows all ASTM national measurement standards in our testing procedures. Our foam production process is controlled, measured, and continuously monitored to minimize variation and ensure complete production optimization.
ISO Certificates by Location
ECS is CertiPUR-US® certified, ensuring we meet all requirements for products:
Made without ozone depleters
Made without PBDEs, TDCPP, or TCEP ("Tris") flame retardants
Made without mercury, lead, and other heavy metals
Made without formaldehyde
Made without phthalates regulated by the Consumer Product Safety Commission
Low VOC (Volatile Organic Compound) emissions for indoor air quality (less than 0.5 parts per million)
View Our CertiPUR-US® Certificate
Facilities
Capabilities
Elite Comfort Solutions manufactures foam for a variety of needs. We are an American-based company with global reach.
Each ECS facility is equipped and operated with two major components. First – the most advanced foam production, cutting, and fabricating equipment in the industry. Second – the very best in skilled craftsmen, engineering, and project management. The combination of people and facilities makes ECS one of the premier foam manufacturing companies in the world.
Elite Comfort Solutions has the unique ability to produce and ship from key locations coast to coast. This helps reduce both time in transit and shipment costs. We also have foam products in strategic distribution centers to further enhance our commitment to getting you products as quickly as possible.
Newnan, GA
Fort Smith, AR
Conover, NC
Americus, GA
Verona, MS
Commerce, CA
Ontario, CA
Environment
Elite Comfort Solutions is an American company. While the name Elite Comfort Solutions is new to the industry, our experience stems from many decades in the bedding and furniture industries. We are focused on the future of our organization and improving the industry we serve. We believe that our business has impact on our customers, our employees, and the communities in which we operate. Our obligation is to be honest and fair, to be a leader, to strive for continuous improvement, and to be prepared for the future. We strive to always exhibit the very highest of regard and professionalism to our customers, the public, and the environment.
As a good corporate steward, our intentions are to produce quality products while minimizing our impact on the environment. We take great measures to reduce the amount of energy we use, to recycle unused materials, and to utilize renewable resources wherever possible. While we are always learning and adopting new practices, we recognize that this is an ongoing process.
As a corporation, we are mindful and considerate of our employees and the work we ask them to perform. Everyone in our organization receives training not only for the job, but also for safety measures. We also provide many opportunities for employees to expand their educational growth with our corporate education assistance program.
Our Environmental and Safety Promises
Meet or exceed all applicable federal, state, local, and company environmental, safety, and health standards.
Provide a workplace free of recognized hazards and maintain healthy working conditions for all company employees.
Closely monitor facilities for prevention of pollution.
Participate in recycling to the greatest practical extent; to reduce impact on landfills and promote recovery of valuable resources.
Strive to continuously improve our commitment to the above stated principles through improved technology, production changes, and due diligence.